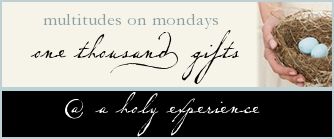 Here are some of the things I was thankful for this week:
1287. A relaxed Fourth of July at home
1288. The freedoms we enjoy in this country
1289. The men and women who gave their lives for our freedom
1290. The eternal freedom I have in Jesus
1291. Setting up the room for homeschool
1292. Organizing books and materials
1293. Finishing the curriculum ordering
1294. Advice from a friend on little things I can do now that will make the school year run more smoothly
1295. A fun week of morning basketball camp for the boys and dance camp for our daughter
1296. Hosting friends from school for a pool playdate
1297. Meeting friends from church at a county pool
1298. Joining friends at their home for a pool playdate
1299. Cheering Daddy on at a church softball league game with friends
1300. Recognizing that we need to slow down and spread out the fun a little
1301. Kids sleeping over at my parents
1302. Giving T and I time to do some much need yard work and house cleaning
1303. And the chance to go on a date
1304. Hosting friends after church for a BBQ
1305. Sweet fellowship for the parents
1306. Budding new friendships for the kids
1307. The quick and easy cleanup outdoor entertaining provides
You can read why I got started counting the gifts
here.