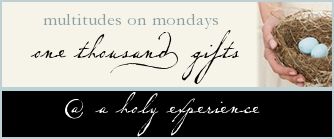 Here are some of the things I was thankful for this week:
1274. My oldest deciding he wants to "train" with me
1275. Great behavior and attitudes from the all the kids at the track 3 times a week
1276. Running with friends and family
1277. Finishing up my last week as church secretary
1278. So many kind comments from friends at church
1279. Finishing up my PTO commitment at school
1280. Our first international night at church
1281. Our children agreeing to make a presentation
1282. Yummy food from all over the world
1283. A week at the beach with lots of family
1284. Perfect weather every day
1285. My sister's large beach house and yard with room for all 15 of us
1286. Seven little cousins enjoying one another all week
You can read why I got started counting the gifts
here.