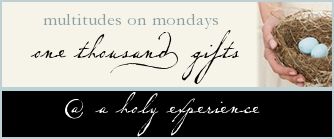 Here are some of the things I was thankful for this week:
1308. Coffee with a friend
1309. Listening to one another's joys and struggles
1310. Working together to present an opportunity to the church
1311. Movies with friends from church- Cars 2
1312. Pool playdate with church friends
1313. BBQ and softball game with church friends
1314. How the summer affords us so many opportunities to fellowship with church friends :)
1315. Planning for Book Club (we read and discussed Authentic Relationships
)
1316. A fruitful discussion at Book Club
1317. The many authentic relationships He has blessed me with
1318. The desire to be more intentional, creative and bold in lightening others' load
1319. Beach playdate with friends who moved to another state
1320. Celebrating my niece's 4th birthday with a Glamour Princess party for the girls...
1321. And a pool playdate with the boys
1322. Attending what's become a yearly BBQ with friends from school- fun for the kids and the grown ups
1323. Seeing a row of empty boxes when I look at this week's calendar :)