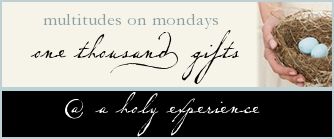 Here are some of the things I was thankful for this week:
815. E-mail and Facebook and Blogs to stay connected even when snowed in
817. Kids who are big enough to climb the sledding hill on their own while I watch
818. A media free day- no iPod or DS or TV or Wii
819. Online grocery shopping and grocery delivery
820. Finding time to write out the pros and cons of our decision
821. Friends who offer real life, godly counsel as we weigh our options
822. The internet- such an amazing, time saving research tool!
823. Ice skating with friends
824. Cleaning and preparing the house for a Little Cousin Christmas party
825. Little girl cousins having a princess fashion show while...
826. Little boy cousins build forts
827. Niece sleeping over for the first time
828. Her adorable and very active imagination
829. Waking up to a houseful of happy cousins on the morning of New Year's Eve
830. Parents taking us all to lunch because we won't be together for the New Year celebration (first time ever!)
832. Ringing it in with family
833. A restful, quiet New Year's Day with...
834. Lots of time to read, pray, think and write
835. Thinking it's Sunday when it's Saturday- the gift of an extra day!
836. Little boy joy over his remote control helicopter
837. Confirmation upon confirmation at Sunday service
838. Seeing how He is already using my struggle to minister hope to others
839. Beginning the Bible in 90 Days Journey
You can read why I got started
here
.