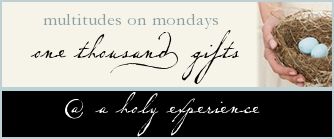 Here are some of the things I was thankful for this week:
860. Staying on track with the Bible in 90 Days- finish the Pentateuch today- already!
862. Knowing about it the night before
863. Squeals of delight as they played in the snow
864. A snowman made exclusively by our 4 and 6 year olds
865. Time to play and be creative
866. A six year olds letter to the boy we sponsor through Watoto
867. A friend's generosity with her time
869. A night of rest while my husband took the kids to AWANA
870. Two more basketball wins!
871. My husband- his hard work and provision
872. Our oldest- his determination, intensity, growth
873. Our middle child- and how he makes us LAUGH
874. Our little girl- her sweetness and femininity
875. 4th grade boys dancing at a birthday party- too cute!
876. The Civil Rights Movement