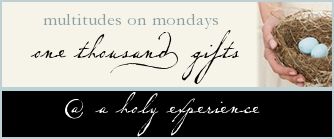 Here are some of the things I was thankful for this week:
990. Day 68 of the Bible in 90 Days- THE NEW TESTAMENT!!!
991. Setting up e-mail accounts for the boys (almost 7 & almost 10)
992. E-mailing them
993. And getting e-mail from them
994. Surprising Abuelita with e-mails from the boys
995. Reading The Power of a Positive Mom: Revised Edition
(again)
996. And studying it in a small group each week
997. Remebering to smile at my children
998. Challenging myself to make at least three positive comments to each child every day
999. iPhone alerts reminding me of this committment
1000. One thousand gifts!!!
1001. Knowing I can't stop
1002. Longing for eyes to see more gifts each day
1003. A burden to pray for loved ones walking an uncertain road
1004. Seeing His power to heal
1005. Believing Him for more!
1006. Finding the time to tweak my testimony
1007. The privilege of sharing my testimony at Bible study
1008. His peace during my talk
1009. So many encouraging words and comments and e-mails in response
1010. A photo shoot of my kids and my sister's daughter- a surprise anniversary present for our parents
1011. Four hours ALONE AT HOME on a Sunday afternoon
1012. Time to get ready for the week AND time to write and reflect
1013. And to encourage my mom who is taking care of her 91 year old mother