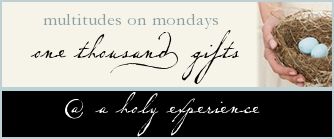 Here are some of the things I was thankful for this week:
955. Still on track with
Bible in 90 Days
- working our way through the prophets now!
956. Wrestling with who God is- to reconcile His love with His justice
957. Preparing for a new book club at church
958. Co-leading the first meeting with Andrea
959. Discussing Not So Fast
in community
960. Recalling my original commitment to slow down and discovering where I have slipped back into old habits
961. A Valentine's breakfast for moms hosted by a sweet friend
962. A beautiful bouquet of roses from T waiting for me when I returned home
963. And a poem he wrote and posted on Facebook!
964. Out little man's self-inspired and homemade Valentine's Day card to the family
965. More confirmation about our decision from a recent meeting at school
966. Finally an opportunity to tell my sister who was surprisingly not negative about the idea
967. Another opportunity to meet with a veteran mom and learn about curricula options I hadn't considered yet
968. MP3 teachings and podcasts
969. A four year old's sweet, sweet prayers
970. Planning the boys' upcoming birthday parties- a pool party and an ice skating party
971. Celebrating our little cousin's first birthday
972. Little cousins playing together and enjoying each other...
973. Allowing the big cousins to sit around a table and chat
974. Afrin,
Motrin and Mucinex (yes, I've finally succumbed to the bug)
975. Husband and daughter finally feeling better