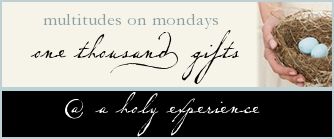 Here are some of the things I was thankful for this week:
1228. Homeschool books arriving
1229. Feeling more excitement than trepidation about it
1230. The boys unwavering in their excitement about it
1231. AN IKEA run with two good friends to get bookshelves and a computer desk for homeschool
1232. Spending the day with my mom making Empanadas for the Fourth Grade class and lots of friends (and us, too!)
1233. My dad working in my garden while we worked in the kitchen
You can read why I got started counting the gifts
here
.