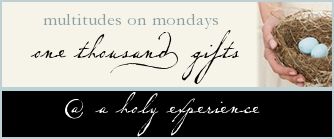 Here are some of the things I was thankful for this week:
1234. Our girl's Spring Concert
1235. Final PTO Board Meeting of the year
1236. Held at a lovely local restaurant
1237. The opportunity to work with a dedicated, bright group of women
1238. An unexpected chance to share my faith there
1239. Training my replacement for church secretary
1240. Looking forward to a summer without this work commitment
1241. A morning of fellowship with my Wednesday morning Bible study group- even though the study has ended
1242. Fun End of Year activities- Faculty vs Students Softball Game, Little Guy named Worker of the Week, Last Regular Season Baseball Games
1243. Slowing down but still plugging along on the Spring Cleaning goal
1244. Homeschool Conference
1245. Encouragement and inspiration for my soul and our homeschool
1246. My niece's dance recital
1247. Teaching Sunday School for the 4-5 year olds
1248. Seeing them understanding, remembering and having fun
1249. Gospel Light Sunday School curriculum
1250. A BBQ with neighborhood friends- new and old
1251. Christian music radio broadcasting for the first time in our city!
1252. I am more!
1253. How He loves me!!!
You can read why I got started counting the gifts
here