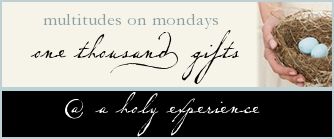 Here are some of the things I was thankful for this week:
1255. Online Library system for searches and holds
1256. Access to so many great books
1257. Generous friends who host an End of Year party for our two grades each year
1258. Wonderful comments from the kids' teachers about their progress this year
1259. Beautiful year end scrapbooks and memory books and photo slideshows made by the kids
1260. A Mom's Night Out Year End Get-together
1261. Saying farewell to a school family who is moving after seven years in the school
1262. Winning our first baseball playoff game
1263. Last Day of School!
1264. Lunch out to celebrate with lots of friends from school
1265. Day 1 of Summer Vacation spent playing baseball with friends and going to the movies
1266. Day 2 at an End of the Year BBQ with friends
1267. Getting the house and yard ready for Father's Day guests
1268. A husband who is not afraid to work hard and get dirty
1269. Father's Day BBQ with family
1270. My dad, who has always been there for me, my sister and now my husband and children, too
1271. My husband, who loves our children with all his heart
1272. My Father in Heaven, who is my everything
You can read why I got started counting the gifts
here