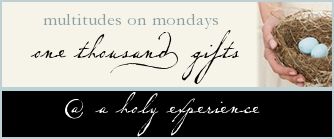 I guess I took an unintended break from blogging last week. While I missed writing (and reading, too!), I suppose the reprieve from the screen was needed! Thank you for all the kind comments on last Monday's post, I hope to visit all your blogs this week. It was Spring Break for us and we had lots of fun plans, so many things to for which to be thankful:
1141. A free pass for indoor swimming at the Y
1142. Booking a family getaway for Memorial Day Weekend with friends from church
1143. A playdate with good friends
1144. Little boys intent on playing outside, undeterred by the relentless drizzle
1145. Little girls content to play family for hours
1146. All giving the moms a chance to catch up with one another
1147. An opportunity to get to know some of the homeschooling moms a little better
1148. A playdate with friends from church
1149. Rain holding off for the Easter Egg hunt
1150. Kids making homemade pizza together- yummy and fun!
1151. A cul de sac street with basketball hoops for energetic boys
1152. Reading through the Gospel of Mark in community one evening
1154. Gap toothed, seven-year-old smiles
1155. Target run for Easter goodies
1156. My dad watching the kids for me while I shopped
1157. Then taking us all to lunch afterwards
1158. Messianic Seder Service on Good Friday
1159. The kids listening and seeming to understand some (especially the oldest)
1160. The kids tasting some of the Seder meal elements
1161. A rainy Saturday gave us an entire day, uninterrupted by sports, together
1163. Hosting the family for Easter dinner
1164. Surprise guests arriving for dessert!
1165. Monday Matinee (Rio) with the kids
1166. Spending the rest of the afternoon outside- so good to see the sun again
1167. Playing Hide and Seek with the kids
1168. The joy written on the faces of friends when we gifted them all our unopened, unwanted LEGO sets