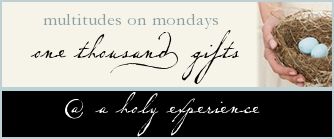 Here are some of the things I was thankful for this week:
798. Difficult mornings- allow me to put into practice what the Lord has been teaching me
799. Crying before the Lord and knowing how He cares
800. Peaceful mornings- allow us all to rest and enjoy one another
801. Coffee with a friend
802. Access to health care and antibiotics
803. Friends who help in tangible ways when you have a sick little one
804. Listening to the boys when they asked to drop an extracurricular activity
805. Christmas Eve with family
806. Christmas morning shouts of glee!
807. Christmas Day at home with family
808. Sunday service before the blizzrd rolled in
810. Kids bundled up and playing in the snow
811. Watching them from the warmth of the living room window ;)
812. Pondering a big decision
814. A week without rushing in the mornings
You can read why I got started
here
.