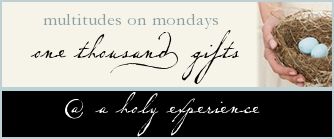 Here are some of the things I was thankful for this week:
781.
My big boy getting the flu...
782. And how it forces life to slow down
783. And how it gives countless opportunities to love and nurture and encourage
784. And how it gives time to be one on one with him- baking and playing bottle cap hockey and board games
785. Christmas Cards- sending and receiving and remembering and praying for loved ones
786. Knowing when to rest- even in the hustle and bustle of this season
787. Finishing the Christmas shopping
788. Pictures with Santa!
789. Our girl's Christmas concert at school
790. The world's cutest church Christmas pageant
791. Starring a lowly (and adorable) shepherd, a regal (and handsome) wise man and a positively glowing (and beautiful) North Star
792. Pageant director who prohibited me from helping and insisted I just enjoy the finished product!
794. Ice skating- all 5 of us- with friends
795. Singing along with the Heat Miser and Snow Miser- and how it still makes me smile
796. Starting the gift wrapping
797. God speaking and teaching me- hope to find time soon to share what, here
You can read why I got started
here
.