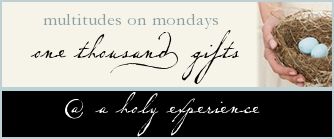 Here are some of the things I was thankful for this week:
1201. Daily rain to wash away all the pollen
1202. And make green grass grow in our front yard!
1203. Watching my oldest's prayer life continue to grow
1204. And his brother's, too, as he emulates big brother
1205. T getting to Hawaii and home safely (some business trip, huh?)
1206. Parents willing and able to help me manage some scheduling conflicts while T was away
1207. Spring cleaning progress- playroom and home office/homework room done!
1208. Free Ice Cream cone day at our favorite ice cream shoppe
1209. Being the Mystery reader for our first grader's class- reading this family favorite
1210. Leading a successful PTO project for the school
1211. A morning of fellowship with mom's from my Wednesday morning Bible study
1212. Rain holding off for daughter's outdoor field trip
1213. Celebrating the boys' accomplishments at the Awana Closing Ceremony
1214. Daughter going with my sister and her family for a weekend of girly fun at the beach
1215. A beautiful Saturday spent at the baseball fields