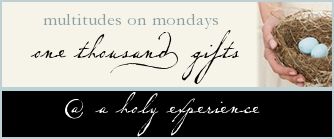 Here are some of the things I was thankful for this week:
1169. Homemade Retreat (More on that soon!)
1170. Re-evaluating my Mission Statement
1171. Hearing from Him
1172. Kat and all her wisdom and tools at Inspired to Action
1173. Setting goals, making decisions and plans, a defined direction
1174. Two new apps to help with all of the above: Things and HomeRoutines
1174. Knowing I need prayer
1175. A faithful prayer partner
1176. A peaceful morning before school
1177. Beautiful color springing forth all around us
1178. A plan for much needed Spring Cleaning
1179. One closet down- many more to go!
1180. Giving our excess to help others
1181. A sparkling clean car- even if it won't last very long
1182. Little boys' love for all things baseball
1183. Little girl's dance recital
1184. Time to tackle some much needed yard work
1185. Husband who is not afraid to get his hands dirty
1186. Husband who remains optimistic about growing actual grass in our yards despite my wails of disbelief
1187. Priscilla Shirer's 5 P's of Personal Bible Study